Salomon Quest 4D 2 GTX Boot Review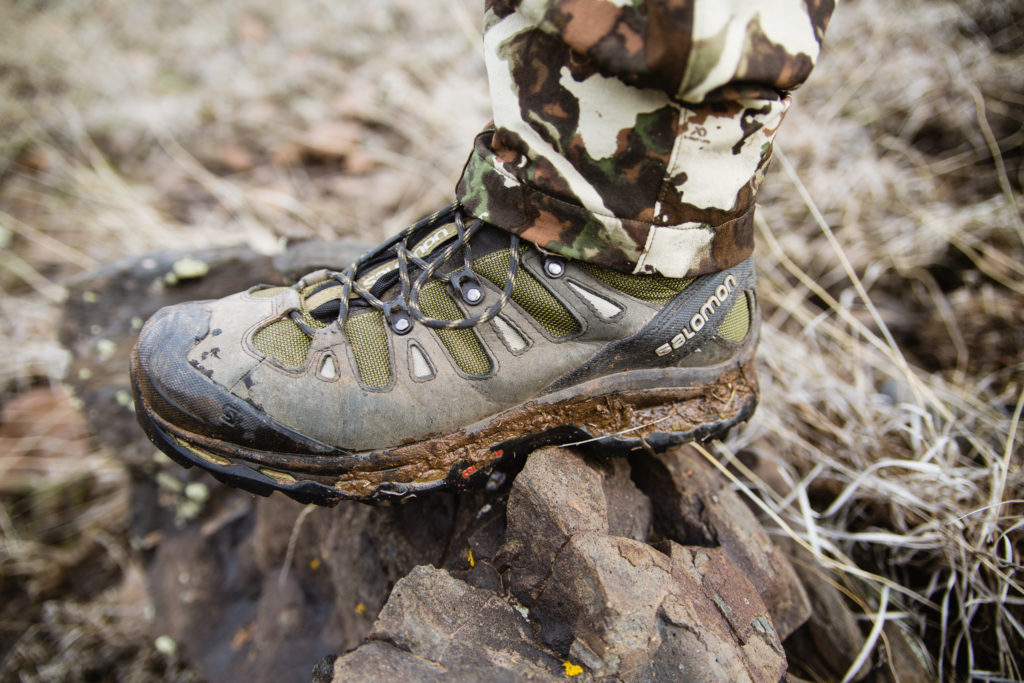 The discussion of boots is a fickle one, but one that every hunter needs to have with themselves.  You might try on 10 pairs of boots before you find one that you like.  Then when you do find that one, is it gonna be able to withstand the rigors of the mountains?  Are they going to give you blisters after hiking 10 miles?  Are they truly waterproof?  Only time will tell that.
After trying a half dozen or so boots over the years and dealing with issues ranging from hot spots, faulty waterproofing, and literally walking the sole off of a boot, I was ready for a change.  Taking care of our feet and having a good pair of boots is imperative and I was feeling that.  The research began and I landed on the Salomon Quest 4D 2 GTX backpacking boot.  I've put in about a year and a half of use on these and WELL over 300 miles of hiking.  Now, that I've gotten to know this boot like I have, I think it's time I give you all a review.
First Impressions
Oh, so comfortable
The first time that I had ever tried on the Quests I was blown away by the comfort level.  On a scale of 1 to 10, they were a 10 in comfortability.  It felt as if I was wearing, for lack of a better term, a beefy sneaker.  That classic stiff leather boot feel, that I had come to know so well, was now history.  Before this, I had become prone to a pinching feeling on my ankles with a few other boots and had to try and modify the lacing on them.  This worked for the time being and I made do.  With the Salomons, that pinching was absent.  No need to jimmy rig the lacing with the Quests.  All in all, they felt like a phenomenal boot and I was eager to get them into the field.
Lightweight
Another plus that I noticed right out of the box was how lightweight they were.  You might not notice the weight of your boots as you are trudging up and down mountains, but I'm telling you, it makes a difference.  Would you attach extra weight around your ankles before you went hunting, just to do it?  Probably not.  I was especially excited about this for the sake of backpack hunting.  It's no wonder these are very popular among the backpacking community.  Always looking to cut weight!
Features of the Salomon 4d 2 GTX
This boot is loaded with different features, so I am just going to go over a few that I have come to enjoy.
Nubuck Leather
The first is going to be the Nubuck leather that the boot is made out of.  This seems to be a very pliable, but durable type of leather.  I'd imagine this is a big component in the reasoning behind why this is a "no break in" boot.  I can attest that you can literally put these on and go hike 10 miles without worry of getting sore feet from the breaking in process.  As far as the durability of the leather goes, I have yet to put a hole in it or hear of someone in my circle that has.
Contagrip
On the very first hike I ever made with these, one of the things that I noticed right off of the bat, was how sticky the bottom was.  It was very apparent when I would be walking on rocks.  The sticky like grip was something that I actually had to get used to, due to the fact that it almost made me fall a few times.  I know that sounds counterintuitive, but it happened!  This eventually nifty feature for me comes from Salomon's Contagrip sole.  It's meant to grip on a multitude of different surfaces, including wet ones.
Lace Locker
This next feature was something that I really didn't even notice until as of late and that is Salomon's Lace Locker.  I didn't notice it, because I never had to deal with my boots coming undone as the day went on.  These little Lace Lockers are located on the ankle portion of the boot and they work like a charm.  It can be difficult at times to actually get the lace into them, but once it's in, you really don't have to worry about these thing coming undone and loosening up on you.  When I am in the process of packing meat out of a nasty canyon, one of the last things I want to do is sit down or bend over to tie up my unlaced boot.  Neat addition.
In the Field
Over the past year and a half I have put the Salomon Quest 4D 2 GTX through the ringer.  From blazing summer temps to blizzard like conditions, they have been there every step of the way with me.  I say "they" because, I am actually on my 3rd replacement pair as of right now.  As comfortable as this boot is, I have had a durability issue with them.  Maybe, it is the rocky like terrain that I frequent out here in Arizona or the excessive use I put on them, but I can't seem to get more than 5-6 months out of them without the sole starting to peel off.  This issue hasn't caused any detriment on any trip I've made thankfully, but it is definitely a concern of mine.  Some folks that I have talked to haven't had this issue at all and are a few years deep into their Quests.  To that, I am jealous, because if it weren't for the durability, this would be the perfect hunting boot to me.  Here are my Pros and Cons of the boot.
Pros
Extremely comfortable
No Break in Period.  Ready to rock right out of the box
Love the Lace Lock feature
Very Quiet
Cons
Lack of Durability
Price in reflection of longevity
My Final Thoughts
I said that if it weren't for the durability issue I've had with the Quests, that it would indeed be the perfect hunting boot for me, and I meant it.  That is probably the reason that I've continuously gone back to it, even after having issues.  To tell you the truth, I am kind of paranoid of switching up boots, because of how comfortable these are.  Hiking around, even in the most rugged of terrain, is a breeze and I've never had any problems with blisters, hot spots, or aching feet.  This is also an extremely quiet boot, in light of spot and stalk hunting.  I have talked to the source I got the boots from and they tell me that they have never seen this before with them.  I guess I am just the "lucky" one.  Whether or not it works out for me personally, I cannot deny this boot merit.  To find out more about this boot and others from Salomon visit www.salomon.com.