Exo Mountain Gear 3500 Review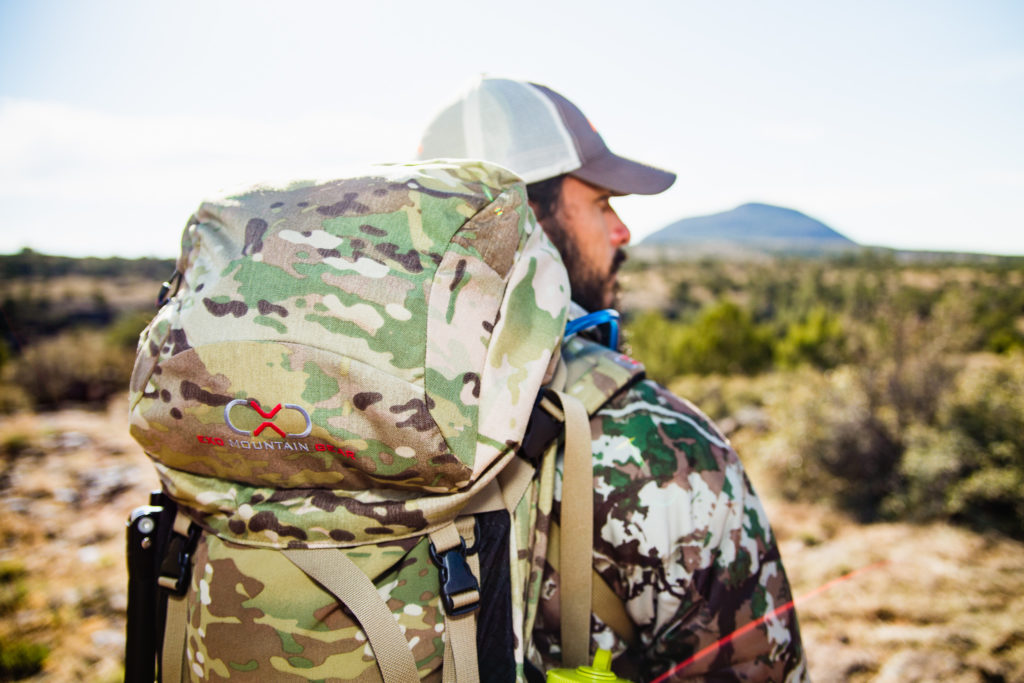 What if I told you that you could get a bomber pack capable of handling as much weight as you could pick up, carry that weight extremely well, AND come in at a mere 4 lbs 14 oz?  Sound too good to be true?  Surely, there must be some give and take or sacrifice happening to reach these numbers.  The only sacrifice that happened though, was all of the man hours that Steve Speck and Lenny Nelson put in to make said pack a reality.  If you don't know what I am talking about yet, I am referring to the company that is Exo Mountain Gear, and specifically, the Exo 3500 backpack.  I have been using this pack for the past couple of months and have been VERY impressed with its performance and functionality.
The Birth of Exo Mountain Gear
Before we dive into the pack, let's take a brief look at Exo Mountain Gear as a company.  Exo was founded by Steve Speck(S&S Archery) and Lenny Nelson out of Boise, Idaho.  After many backcountry hunts together, the thing that they found themselves always talking about was their current packs and what could be different about them.  The solution?  Make their own pack specifically designed around backcountry hunting of course!  As if there was any other option!  They had a few requirements with this pack.  It had to be durable, comfortable, lightweight, have the ability to haul meat with the rest of your gear, and maintain functionality.  So, the testing began and soon after, Exo Mountain Gear was born right here in the U.S.  This pack is 100% American made and Exo prides themselves on that.  A pack made for backcountry hunters, by backcountry hunters.
First Impressions
The first thing that I noticed when I pulled my Exo 3500 out of the box was how incredibly lightweight it felt.  On top of that though, the pack felt as rugged as they come, in terms of durability.  Make a pack out of 500d Cordura and 420d Diamond Ripstop and it will do that.  From the zippers and buckles to the actual material and sewing job, I wasn't too worried about this thing holding its own in our thorny Arizona Wilderness.  Our tough as nails bears and coues deer often have me traversing through some less than desirable terrain, so durability is an absolute must in a pack for me.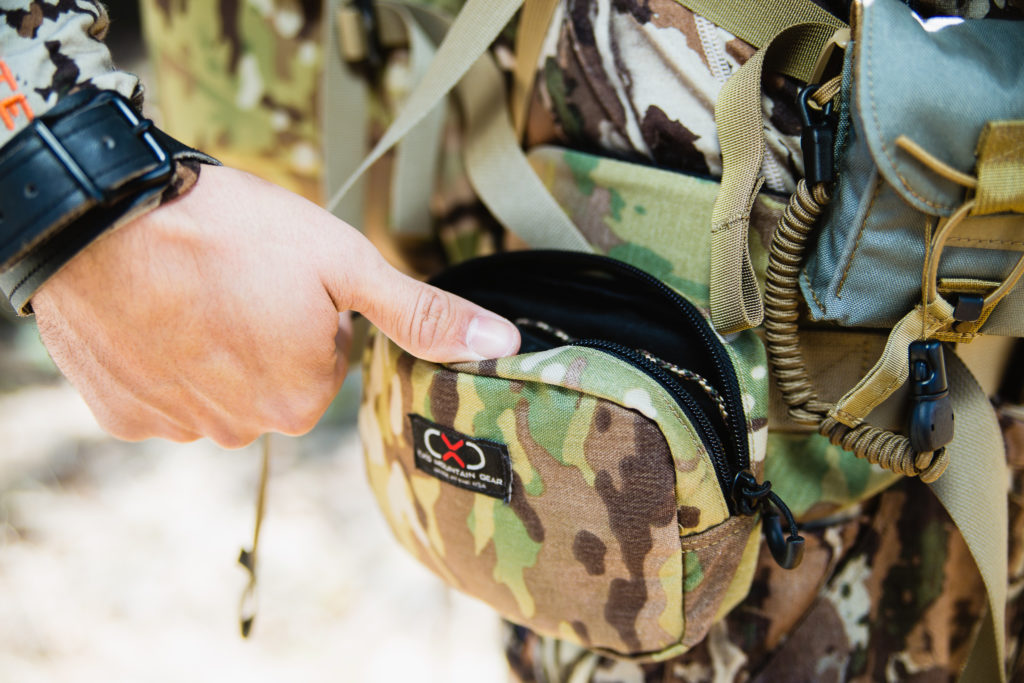 Another thing that I found was how easy the zippers were to open and close.  There is no snagging whatsoever with these.  I can actually operate the side hip pouch one handed.  That is a very cool feature to me.  Having to put my bow down every time that I want to open my hip pouch is no bueno.  The more and more time I spend in the mountains, the more I realize how key it is to maintain efficiency and a pack is no exception.
Along with the zippers being easy to use, the whole pack is easy to use.  Definitely, the most simple pack I have had the pleasure of using from the layout to the actual functionality.  I actually thought I was going to have an issue with how the pack was laid out.  This is not a pack that has 100 pockets on it for everything that you own.  In the end, I found myself simplifying my gear, which is something that I had been wanting to do for awhile.  So, the thing that I was worried about actually ended up helping me in the long run.  There really isn't one designated spot for anything, so you can really customize how you use this and with 14 different compression straps, you can really attach whatever you want to the outside of the pack, if you choose.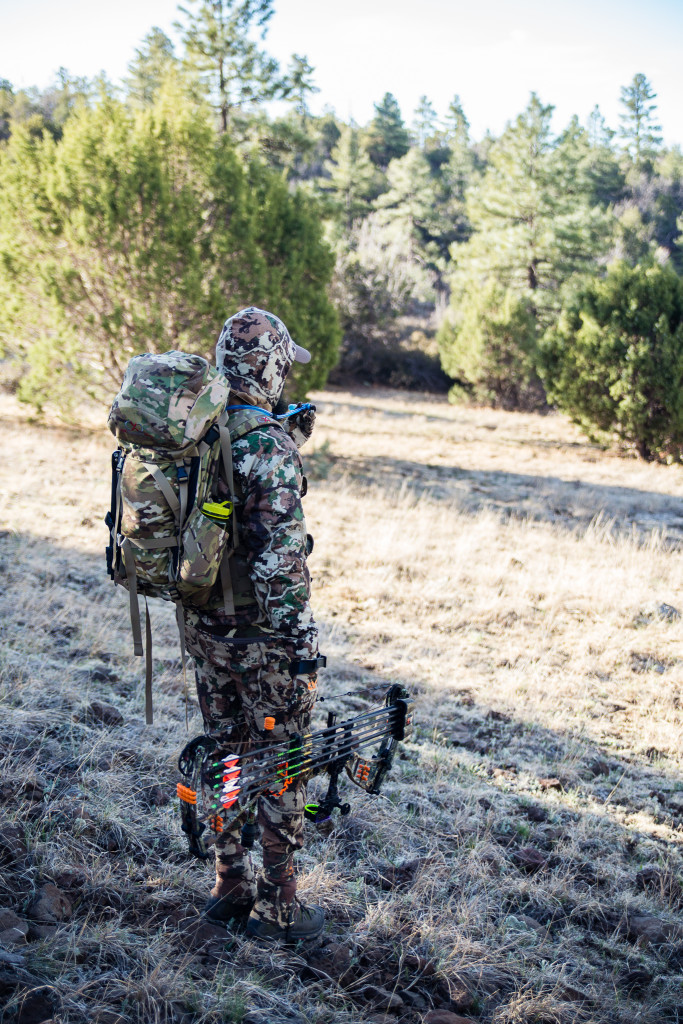 Lastly, I was super impressed with the lumbar pad and the frame.  I love this lumbar pad, because it actually sticks to my back without having worry of the pack sliding down eventually throughout the day.  It also seems to be just the right size as well.  Being a roofer, I spend a lot of time bent over at work and having a nice quality cushion on my back is very beneficial to me.  My first impressions of the frame was that I couldn't believe how rigid it was vertically, yet how pliable it was when twisted from left to right.  This frame is really the meat and potatoes if you will of the pack and we will discuss it a bit more, later in the review.
How it Works
It's ONLY 3500 cubic inches?
Right when I say Exo Mountain Gear 3500, the immediate assumption is that this pack only comes in at 3500 ci.  This might be one of the most misunderstood things about the pack.  The 3500 is really actually more like a 7000 ci pack when all said and done.  3500 ci only accounts for the MAIN COMPARTMENT(which is pretty darn waterproof) of the bag and the lid.  You also have two 1000 ci side pockets and a 2500 ci load shelf area.  The load shelf area is where you would strap your meat, in between the bag and the frame on your way out of the backcountry, while your camp remained on the inside of the bag.  So, please, do not judge this piece of gear by its title.  If it were only 3500 ci, then the people getting 7-10 days in the backcountry out of it, wouldn't be able to do so.  The Exo has 7 different compartments for organization and you are able to add up to 3 velcro mesh pockets to the inside if you so desire.
The Little Things
The details that Steve and Lenny incorporate into this pack is ridiculous.  For instance, the compression straps on the sides of the pack are actually angled upward.  What does that mean?  It means that when you cinch these down, you are actually cinching the pack up and into your back, instead of just straight into your back.  This is hugely beneficial, because we all know how heavy loads like to sag downward.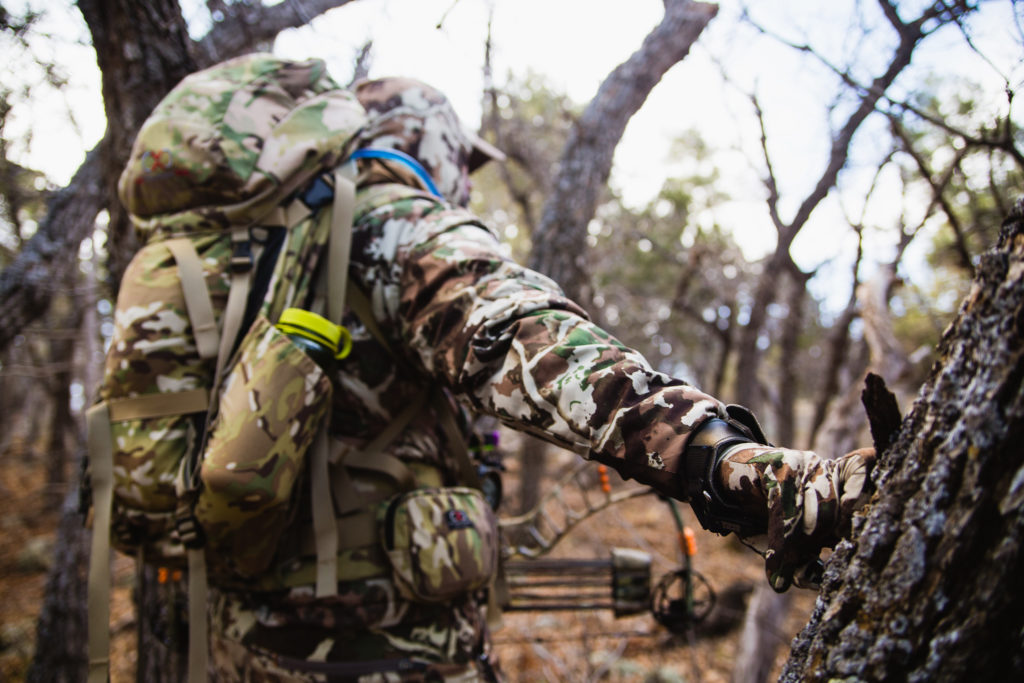 Another nifty feature is how the side stretchy pockets, which are perfect for a water bottle, are also sewn in on an angle.  They did this in order for you to be able to reach back there and grab your drink without having to take your pack off.  There is that efficiency again that I mentioned earlier.  Little things like this really show how much Steve and Lenny thought about this.
The Exo also features a side entry zipper into the main compartment of the bag.  With this, you won't have to go digging through the top opening of your pack looking for things.  This is definitely the beefier zipper on the pack and seems to be waterproof, from what I can tell.  The side entry access makes it extremely easy to get to things even in the bottom of your pack.  Great feature.
The Frame
Now, let's talk about the big cheese of the Exo, which is the frame.  The frame is really how this pack functions and handles the way that it does.  It was designed to move with your body as you walk.  For instance, when you take a step forward with your right leg, your right hip goes forward and your left hip goes backward.  This frame is going to move right with your hips or EXOskeleton.  Now, you know where it gets its name.  Sounds like a flimsy, no good frame right?  WRONG!  Being made of titanium, I dare you to try and bend this thing vertically.  Not gonna happen.  This is how the pack is able to handle so much weight, yet remain as comfortable as it does.
In the Field
So far, I have been able to use this pack on multiple backpacking trips, a ton of day/scouting trips, and a spring bear hunt.  My experience has really been nothing but great.  I've put over 100 miles of hiking on with this pack in all sorts of different conditions ranging from blizzard to 100 degrees and sunny.  The Exo has held up great and felt great the whole time.  I find myself really not adjusting anything at all once I get the pack on.  No having to keep cinching my waist belt tighter or constantly trying to adjust my shoulder straps and load lifters.  I just put it on and GO!
One of my favorite parts about this pack for field use, is the front stretchy pocket.  It makes it so convenient to store my rain gear, puffy jacket, and any other layers I happen to have and remain extremely accessible.  I believe that the lower side pockets are made of the same material.  When in use, they can expand out a good ways.  When not in use, it is like these pockets don't even exist, because they form right back to the pack, maintaining a streamlined look.
80 lbs of AWESOME!
Unfortunately, I have not gotten to haul a bear out of our rugged Arizona mountains yet with this pack.  However, I did take the time to load the pack down with some salt bags that seem to resemble meat in game bags as much as something could.  At first, I threw a 40 pound bag of salt into the load sling area of the pack(between frame and bag).  This felt great.  So great, that after only a few minutes, I decided to throw on another 40 pound bag of salt.  This would make the total weight in the load sling area 80 pounds.  That was along with what was already in my pack, which was my filled water bladder and miscellaneous hunting things.  So the total weight on my back was probably around 90 pounds.  It was the best 90 pounds that I have felt on my back since I started hunting.  I took the load on a brisk walk around my neighborhood totaling about a mile.  The load held great.  No slipping and I didn't have to keep adjusting my pack.  Everything was sound and gave me a whole lot of confidence knowing what the pack could hold and how it felt with the weight in it.  Honestly, it felt like it could have held more and still been as comfortable as a pack could be at that weight.  I cannot wait to get an actual load of meat in the Exo!
The Best of the Exo
I think so far, I have outlined a lot of what is great about this pack.  This list goes on and I love it more everyday.  Let's recap though.
Extremely lightweight, but very durable
Simple, but very innovative pack in terms of use and functionality
Can handle MASSIVE weight
Maintains comfortabilty with weight
Made in the United States by backcountry hunters for backcountry hunters
Hydration capable
Waterproof main compartment
Lifetime warranty
No No's of the Exo
Most of what I have experienced with this pack has been all positive and I think that is evident if you have gotten this far in the review.  There are some things though that I would like to see improved or added though.  Some of it is really just a personal preference thing, but isn't everything with gear?
The first isn't anything having to do with the pack itself, but more to do with a hopeful accessory in the future.  I know that the pack is pretty waterproof for the most part, but I would LOVE to see Exo come out with a rain fly for the pack.  I have been out in the rain with the 3500 and the stuff in my pack was fine, BUT it would just be nice for convenience to not have a soaking wet pack.
Like I said earlier, if you are an organization freak, this pack might leave you scratching your head.  Even though you can add accessory pouches to the pack, it lacks all of the small organization pockets that some packs out there have.  Personally, I have no issues with it now and I was one of those people that had a pack with a billion pockets.
Because this pack is 100% made in the United States, you are going to pay for it.  The good thing is, you ABSOLUTELY get what you pay for with this pack and it is worth every penny in my opinion.  Bottom line is, if you want good gear, you are going to pay good money.
Lastly, I think that the lid could be worked on a bit more and as I am writing this, I believe they are actually coming out with a new lid.  I found that, while removing the lid and putting it back on is a snap, the buckles of the load lifters can sometimes get caught up in the flap of the lid.  This isn't a problem once you get that first pull.  The good thing is, like I stated above, I didn't have to keep adjusting them once the pack was on.
**UPDATE**
Since the time I wrote this review, Exo has no doubt fixed the issues I came across with the lid design.  The lid is now redesigned with a new zipper and was made in a way that it now makes no contact with the load lifters.  Now, I have absolutely no issues with adjusting the load lifters, as now they are completely free from contact with the lid.  I love this new design as it just overall sits better on the pack.  Way to go Exo!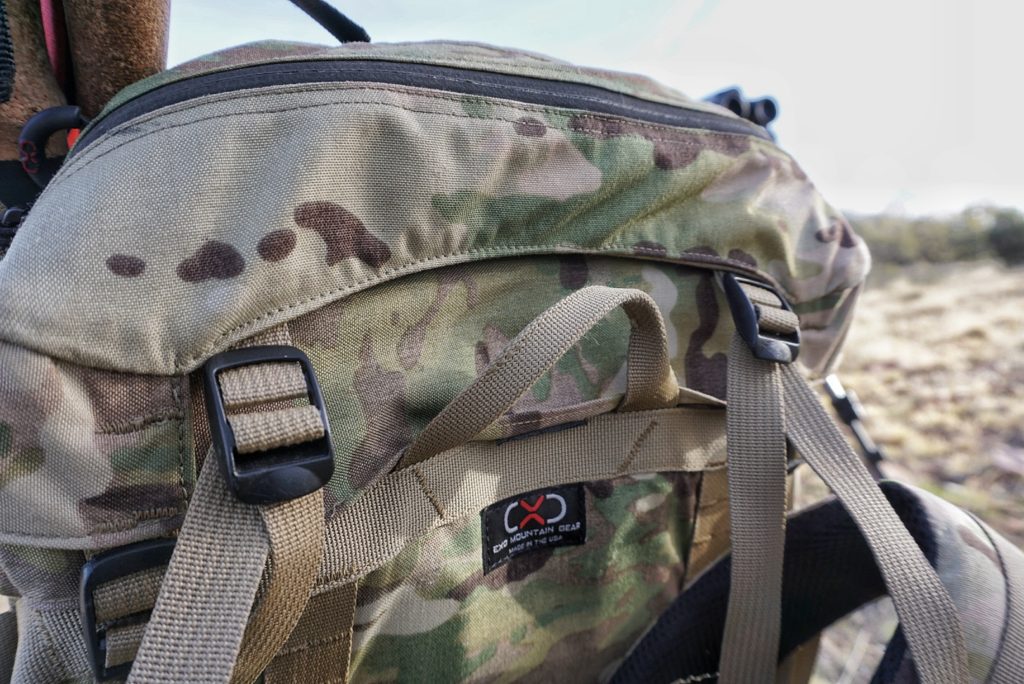 In the End
So, there you have it, the Exo Mountain Gear 3500.  This pack continues to impress me the more I use it and I don't see myself switching anytime soon.  If you are in the market for a new backpack I HIGHLY suggest that you give Exo Mountain Gear a look.  Steve and Lenny put a lot of thought into what they are doing and it shines through in their product.  As of right now, you can get this pack in a 3500 model and a 5500 model for those longer trips.  Exo has all sorts of accessories that you can add onto the pack such as weapon carriers, beaver tails, and their famed "slurpy stalker" water bladder carrier.  Whether you are a hardcore backcountry hunter or a day hunter, this pack gets the job done and then some.  Exo's slogan is "No Boundaries", and I couldn't agree more with that after experiencing the pack for myself.  You can read more about this pack and its accessories at www.exomountaingear.com.