FHF Gear Bino Harness review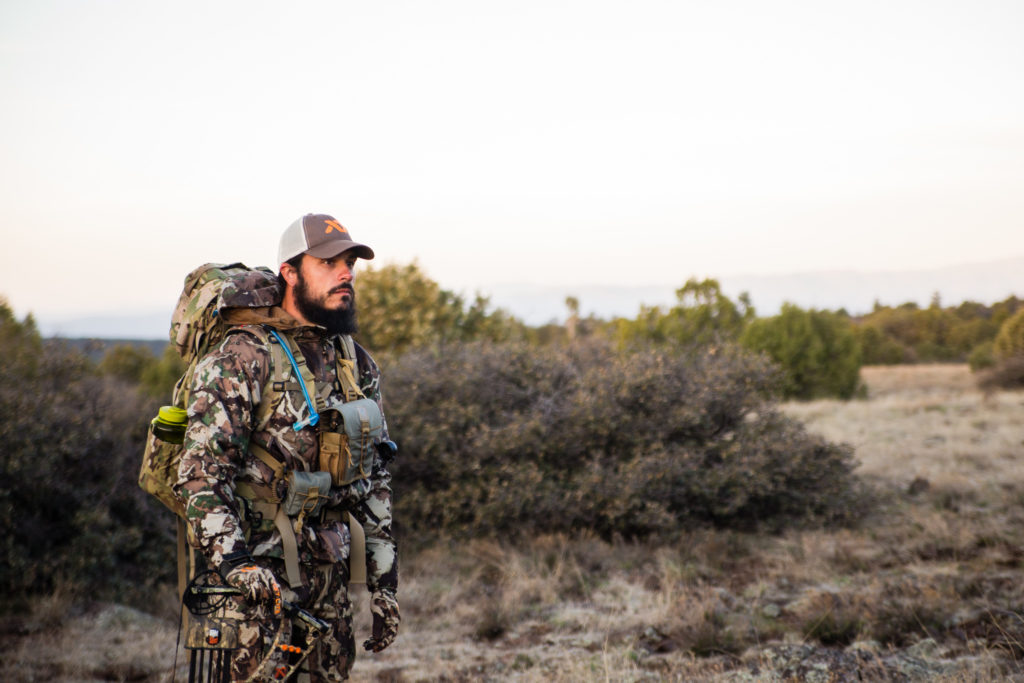 When I was a kid, I often times never even used binoculars when in the field with my dad.  Nowadays, I don't know how I survived without them!  Back then, during the off chance that I had binos, I had them attached around my neck with nothing more than an old red shoelace.  I hated carrying those things!  The shoelace always dug into my neck and the binos danced on and off of my chest with every step I took.  It seemed like more of a chore having binoculars than a luxury.  Gear has come a long way since my nemesis that is that old shoelace.
What is FHF Gear?
FHF Gear is a small company based out of Bozeman, Montana ran by a gentleman by the name of Paul Lewis.  The name stands for Fish, Hunt, Fight and for good reason.  Paul mixes aspects of the hunting and fishing industry with those of the tactical industry.  In the end you get an extremely functional and virtually bombproof product that is sure to stand the test of time.  FHF makes everything from bino harnesses, to rangefinder pouches, to fishing chest rigs to hold all of your tackle while on the water.  I recently picked up a bino harness from FHF and let me tell you, this thing is the real deal.  Let's take a look.
First Impressions
When I first opened the box and picked up my new harness, I noticed 2 things.  First, how unbelievably sturdy and well made this product was.  There were no frills in the sewing and the material seems as tough as you could ever want.  Second, I also ordered the rangefinder pouch, which works in unison with the bino harness.  FHF was nice enough to hook all of that up for me before sending it out.  I literally had to do nothing to the harness before putting it on.  Great customer service.  After wearing the harness around the house with my binos and rangefinder attached, I had no doubt that I was going to love putting this thing to use in the field.  You really can't even feel the weight of your binos with this product.
How it works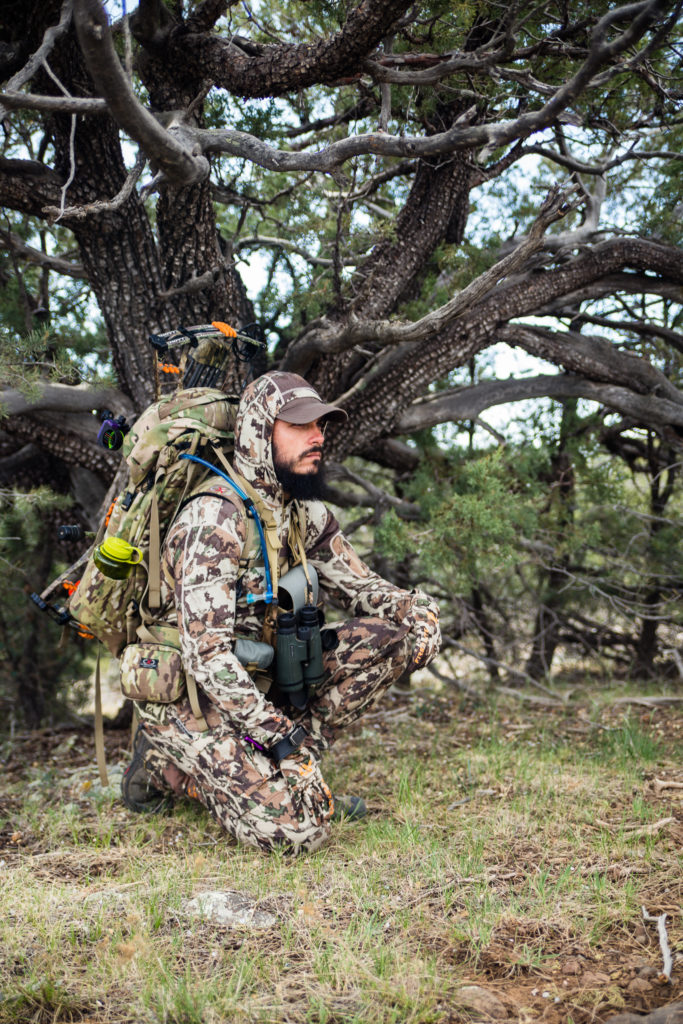 This set up is designed to be lightweight, functional, and low profile.  In addition to the main harness that goes around your shoulders, it also employs a secondary harness so that you don't have to put your optics back in the case every time you stop glassing.  You can just let go of them and they will rest on the front of the device instead.  The secondary harness also has a quick detach feature so that you can remove your binos from the harness all together and set them up on a tripod as quickly as possible.
There are 2 nifty little side pockets, one on each side of the bino pack.  Perfect for quick access to a windicator.  I have been using one of the pockets for my predator call.  It fits perfect and I can get to it without even looking.  The mesh that the side pockets are made of seems to be very sturdy along with the rest of the harness.  I wouldn't worry about anything falling out of these or the mesh ripping while working your way through dense areas.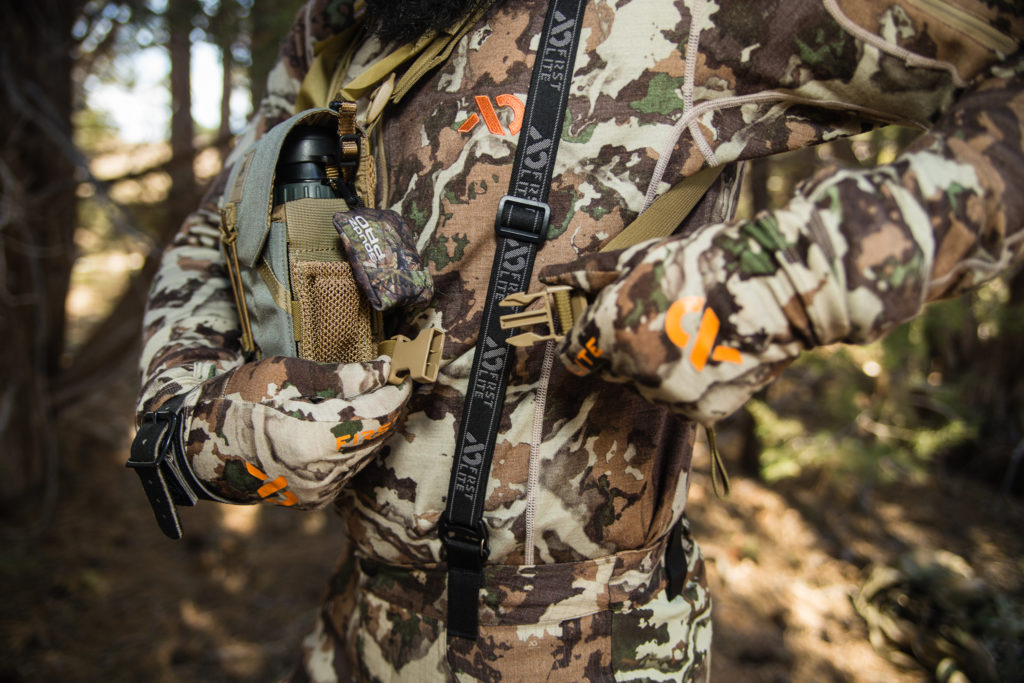 On the front part of the bino pack you have 2 additional pockets there as well.  One of them zippers shut, which would be great for stashing elk calls or maybe your licence and tag.  The other is a top loading pocket that would be more suitable for stashing a lens cloth.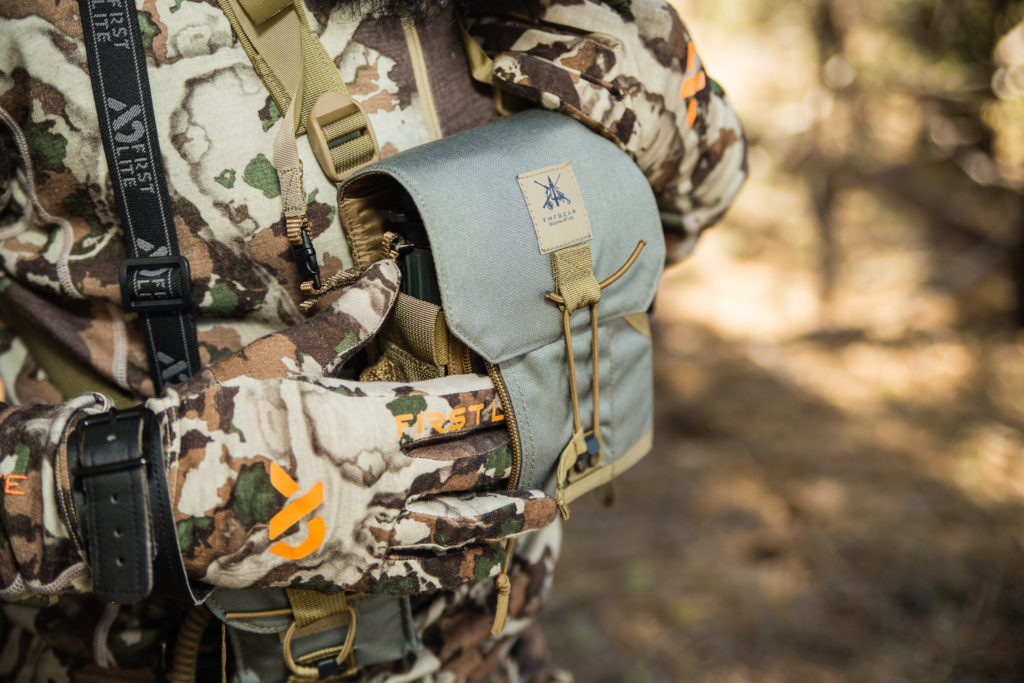 Now to the meat and potatoes of the harness.  The bino pack.  FHF makes these in all different sizes and color options so that you get what you want and what you need.  I went with the medium in foilage green.  This size is suitable for 10×42 and 10×50 sized binos.  I am running the Vortex Viper HD 10×50's and it seems like if I had anything bigger, I would have to size up.  The pack closes up over the top of your binos and is secured by way of an elastic type strap.  Not once have I had this come open without my approval.  It took some time for me to get used to doing and undoing it without looking, but now I am fine with it.  The pack holds the binos in place VERY securely and I have no worry for them falling out or bouncing around.  All in all this thing is rock solid in my book.
In the Field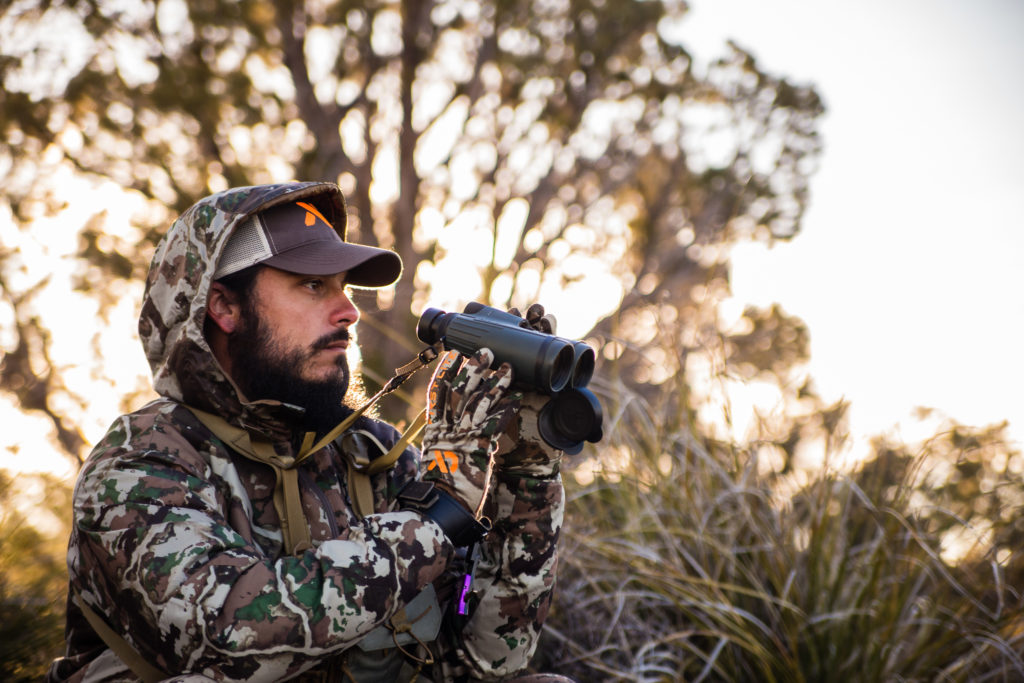 So far, I have put roughly 36 miles on with the FHF set up.  It definitely took some getting used to not having to grab a hold of my binos to stop them from bouncing off of my chest.  There is none of that with this.  You can run, jump, or crawl with this set up worry free.  All of which is bound to happen when hunting the west.  The harness feels great on my chest, with its mesh backing, even after miles of strenuous hiking.  To tell you the truth, I sometimes forget that my binos are even there now with this set up.
I have taken the harness to the range quite a few times and I have no issues at all shooting my bow with the harness on.  That was something that I was slightly worried about when making the switch to a bino pack.  It truly is as low profile as you can get though.
Another thing that I have been able to do is eliminate my lens covers that came with my optics.  Because, of the security that this harness offers, I have no worry about my glass getting scratched up at all.  By doing this, it eliminated a step out of the process of grabbing your optics as quick as you can.  No more having to take off the lens caps before getting eyes on your quarry.
Final Thoughts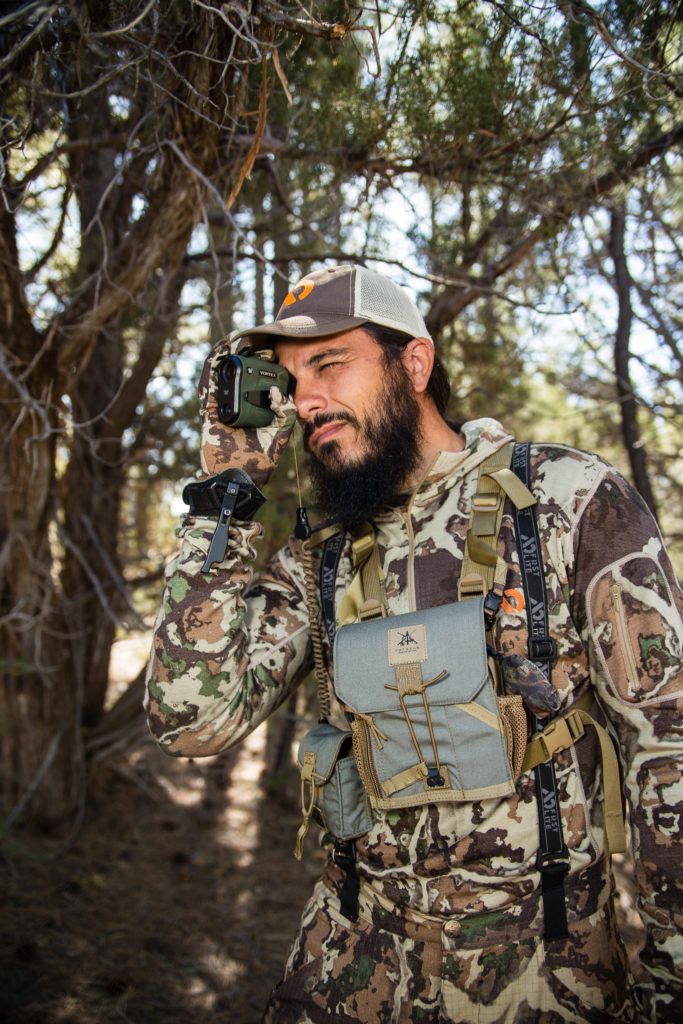 A few years ago, while stalking a mule deer, I found myself having to hold my binos up against my chest as I crawled towards this buck.  In the end, I launched an arrow that never found its mark and lost a lens cap which never found its lens.  This was due to my binoculars dragging on the ground during the stalk.  That stalk was a huge reason that I decided to go with the FHF Bino Harness.  It's lightweight, durable as can be, and efficient.  This harness comes in at right around $100 and, in my opinion, it is worth every penny.  While you are at it I HIGHLY recommend adding the rangefinder pouch to your set up.  Super easy and practical for hunting.  Check out more of what FHF gear has to offer over at www.fhfgear.com.