My 2017 Backcountry Gear List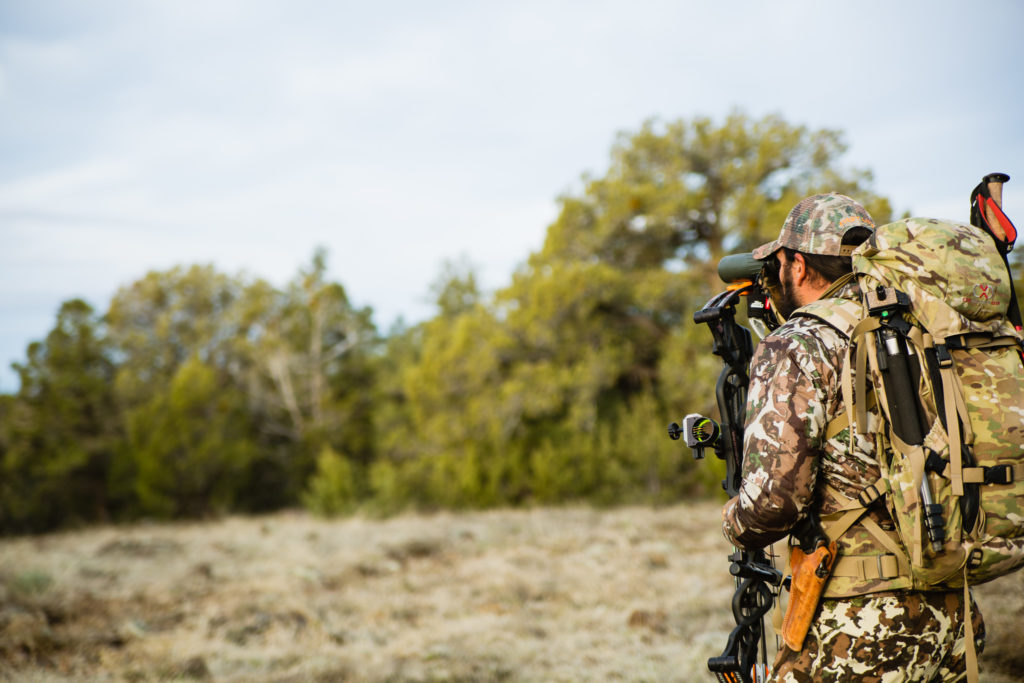 As I've gone down the road of this blog, one of the things that I've gotten asked the most is "what are you bringing on your backpack hunts?"  In light of that, I have decided to post up my current backcountry gear list for 2017.  My gear list is forever growing and shrinking, but hopefully you can get the gist of what is usually in my backpack.  This list is going to be for an archery hunt in the early fall.  If it were later in the year, I would just be bringing some extra layers along.  I am by no means an ounce junkie, so I can't tell you the EXACT weight of my pack and all of the contents in it.  For most hunts, I am sitting in the 35 pound range though, depending on how much water I am packing in.  That number will increase with the amount of days I am planning to be out, simply because of food.  Each one of my food bags is in the realm of 2 pounds per day containing about 2500-3000 calories in each one.  Besides food and water, everything else pretty much stays the same.  If you have any questions, feel free to ask below in the comments.
Backpack: Exo Mountain Gear 3500
Bow: Hoyt Carbon Defiant 34
Arrows:  Victory VAP TKO
Broadheads:  Grave Digger Cut on Contact 100 grain
Archery Release Aid:  Spot Hogg Wiseguy
Optics:  Vortex Razor HD 10×42 binoculars, Vortex Razor 11x33x50 spotting scope, Vortex Ranger 1000
Bino Harness:  FHF Gear
Clothing:  First Lite(Llano, Chama Hoodie, Uncompahgre Puffy, Corrugate Guide Pants, Mountain Athlete Socks, Red Desert Boxers, Talus Fingerless Gloves)  If I know it is going to rain, I will bring the Vapor Stormlight Jacket along with the Boundary Stormtight Pants.
Boots:  Salomon Quest 4D2
Shelter:  Nemo Hornet 2P (if I am hunting solo), Big Agnes Copper Spur Ul3 (if I am sharing a shelter with someone)
Sleeping Bag:  Big Agnes Boot Jack 24 degree.  If it is going to be under 30 degrees, then I will pack a Sea to Summit Thermo React Liner.
Sleeping Pad:  Thermarest NeoAir Trekker
Pillow:  Sea to Summit Aeros Pillow
Cooking System:  Optimus Crux Lite Solo System, MSR folding spork
Water Purification:  Sawyer Squeeze Mini(if I know there is gonna be plenty of water available)  MSR pump(if I know I am going to have to filter water out of small sources)
Water Bladder:  Platypus 3 liter(I also carry a Nalgene bottle)
Headlamp:  Black Diamond Spot
Trekking Poles:  Black Diamond Trail Ergo Cork ( Having trekking poles on hunts is a total game changer and I'm sad that I didn't start using them until last season.  They are such a huge saver on your knees and have actually helped me not fall more than once.  Let your manly friends make fun of you.  You are going to be the one either dusting them on the trail or still going on those rugged pack outs.)
GPS:  Garmin Etrex(It's super outdated, but it does what I need it to do, hahaha)
Handgun:  Ruger .357 mag (I usually always bring a sidearm with me on backcountry hunts.  Some folks don't even bring bear spray.  Having the piece with me just makes me feel better.)
Kill Kit:  Outdoor Edge Razor Pro Knife, 550 cord, surgical gloves, T.A.G. Bags synthetic game bags, large trash bag to lay out to keep meat clean before it's hanging.
Med Kit:  Ultralight Adventure Medical Kit
Camera:  Sony A6000 (Slick little mirrorless camera that takes excellent photos and video)
Tripod:  Slik Pro ii
Survival Kit:  SOL Survival Kit
Archery Related Items:  Allen wrench set, spare release aid
Miscellaneous Toiletries Kit:  TP, toothbrush, toothpaste, floss, small backpacking towel, purell, sunblock, facepaint.
Food Hanging System:  Large Sea to Summit Dry Bag with carabiner and paracord.  I will also add a rodent proof bag occasionally.
Batteries:  I also like to carry spare batteries for both my headlamp and my GPS.
Delorme Inreach SE:  I highly encourage you to check this little guy out.  This is a communication device that lets you send and receive text messages via satellite.  It's also equipped with an SOS emergency button, should things go south.  A great peace of mind for backcountry hunters and their families/friends.
I think that about does it!  Like I said above, if you have any questions, feel free to ask away down below and I will answer them the best I can.  Figuring out the whole gear thing for backpack hunting is pretty daunting when you are first diving into all of this, so I hope this helps you out in some way and gets you out into the field sooner than later.  I will also point out that this is the perfect time to be out testing gear for the coming fall.  You don't want to use something for the first time when you are out on your hunt and come to find out that it either doesn't work for you, or just plain doesn't work at all.  That isn't something you want to deal with on your elk hunt you have been drooling about all year.   Down below I have included a video of me dumping out my backpack while out on a backpack hunt.  Enjoy!